Angelo Vaninetti was born in Regoledo di Cosio, a small town in the foothills of the alps not far from Sondrio, provincial capital of the Valtellina, on 8 February 1924. After studying at the Brera Academy of Arts in Milan, he arranged his first exhibition in Sondrio in 1956, which was followed by a number of personal shows in Italy, Switzerland and Germany. He also participated in several collective exhibitions, both national and international (Biennale of Milan, Contemporaneous Exhibitions of Modern Art, Biennale of Venice). He exhibited his works in and outside Italy (Rome, Florence, Milan, Salzburg, Düsseldorf, Munich, Rapperswill, Zurich), and received awards and recognitions. His works are to be found in many public and private collections in Italy, Germany, Austria and Switzerland. The techniques he used ranged from oil-painting, to watercolours, pastel, tempera, engraving and lithography. Typical subjects of his paintings are Alpine huts, glimpses of landscape, house doors, windows, sunflowers, geraniums, wild flowers and still-life portrayals of various objects typical of the peasant culture of the Valtellina -- bowls, candlesticks, oil lamps. He died at Regoledo di Cosio on 22 March 1997.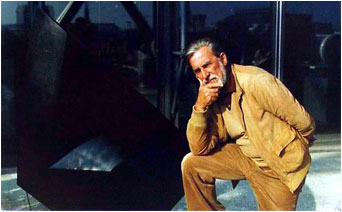 "I believe time, the fairest of judges. It establishes the history of painting and the greatness of works of art.
That is why I think my painting will not disappear.
I feel I am the painter of memory.
Mine is a poetic world; my painting is a slow, enduring recovery of a truth.
Thus, poetry and the truth are one and the same thing in my art."